A Guide to Enjoying New Orleans in the Rain
If there is one thing we know to be true about the Crescent City, it's that the weather is totally unpredictable. Known for its hurricane seasons and humid climate, there's a good chance you'll encounter rain when you visit the Big Easy, especially in the summer months.
But don't worry, the light summer showers usually don't last long before the sun is out to greet you again.
In a city bursting with attractions and rich history, there is plenty for you to explore rain or shine. From lounging in the comfort of your vacation rental to getting out in the city and exploring what it has to offer, you certainly won't be bored here. If there's a chance of rain on the forecast for your trip, here is our roundup of indoor activities to enjoy on a rainy day in Nola.
Visit One of Nola's Many Museums
From art exhibits to historical moments, the museum scene in New Orleans displays a variety of culture, talent, and history.
The National World War II Museum
Address: 945 Magazine St, New Orleans, LA 70130
Neighborhood: Warehouse District
The National WWII Museum is the most popular museum in New Orleans for a reason. It features exhibits, immersive experiences, and one-of-a-kind artifacts that allow visitors to connect to history and honor those who served in WWII. The WWII Museum also houses a restaurant, a theater with live performances, and a gift shop featuring WWII-inspired memorabilia.
The New Orleans Museum of Art (NOMA)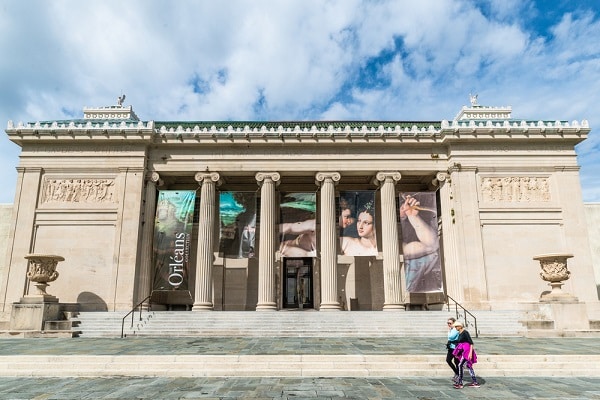 Address: 1 Collins Diboll Cir, New Orleans, LA 70124
Neighborhood: Mid-City
The New Orleans Museum of Art (NOMA) is located in City Park, the largest park in New Orleans. Opened in 1911, this century-old art museum boasts of over 40,000 objects within its permanent collection. Open Tuesday-Sunday for general admission, it is the perfect spot to linger on a rainy day and experience some of New Orlean's fine art scene.
City Park is also home to the infamous Besthoff Sculpture Garden which sits beside NOMA. You get a front row seat to the Sculpture Garden from the museum, and if the rain lets up, we recommend taking a walk around this 11-acre art and garden immersion experience.
New Orleans African American Museum of Art, History, and Culture (NOAAM)
Address: 1418 Governor Nicholls St, New Orleans, LA 70116
Neighborhood: Tremé
Located in the Tremé neighborhood, the New Orleans African American Museum of Art pays homage to the neighborhood's history as a hub of Black culture. The museum displays countless artwork and photographs that serve to preserve the history and culture of African Americans in New Orleans. For a full list of Black-owned businesses to visit in Tremé, click here.
Note: Other museums worth visiting throughout the city include the Ogden Museum of Southern Art, the New Orleans Pharmacy Museum, and the Backstreet Cultural Museum.
Cozy Up in a Cafe
There's nothing like cozying up in a hole-in-the-wall cafe on a rainy day, and the New Orleans cafe scene offers a wide variety of spots to enjoy coffee and a pastry while you watch the storm pass.
District Donuts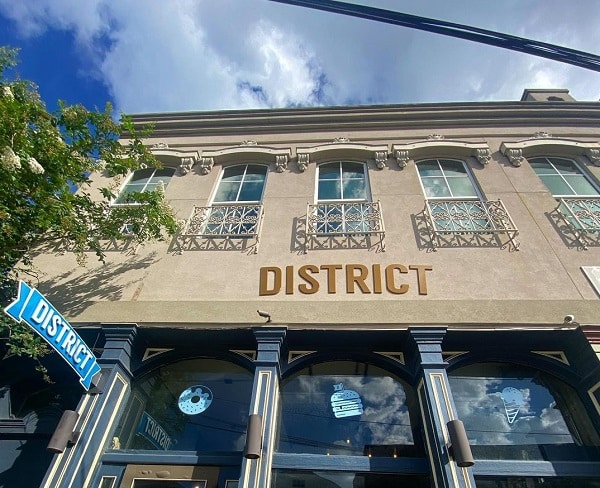 Address: 2209 Magazine St, New Orleans, LA 70130
Neighborhood: The Garden District
Price Point: $
District Donuts is a long-time favorite spot for both locals and tourists to grab their morning cup of coffee and a warm, flavor-packed donut for breakfast. Offering a variety of coffee options, morning tacos, kolaches, and of course their infamous donuts – there's a little bit of everything for the savory or sweet tooth visitor.
Willa Jean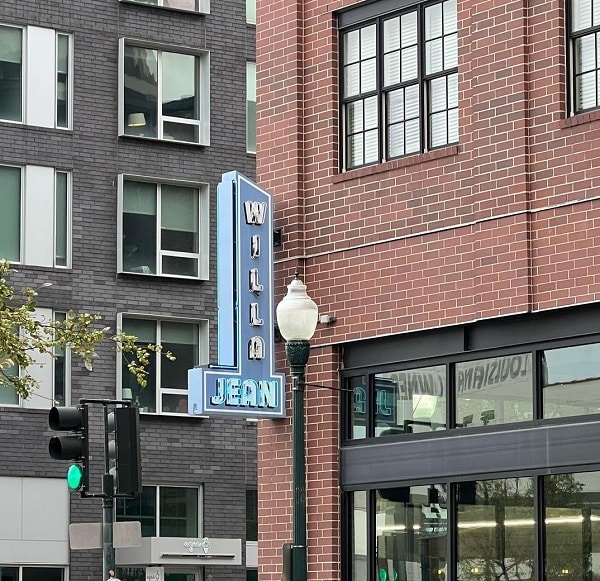 Address: 611 O'Keefe Ave, New Orleans, LA 70113
Neighborhood: Warehouse District
Price Point: $$
Willa Jean is the perfect destination for those wanting to dine at a chic, minimal cafe over Southern breakfast dishes. Willa Jean is known for their flaky, melt-in-your-mouth biscuits, with menu items including a fried chicken and tabasco honey biscuit and a simple butter and homemade jam biscuit done right. No matter what time of day you visit, we recommend finishing your meal with their plate of warm chocolate chip cookies and vanilla milk.
The Vintage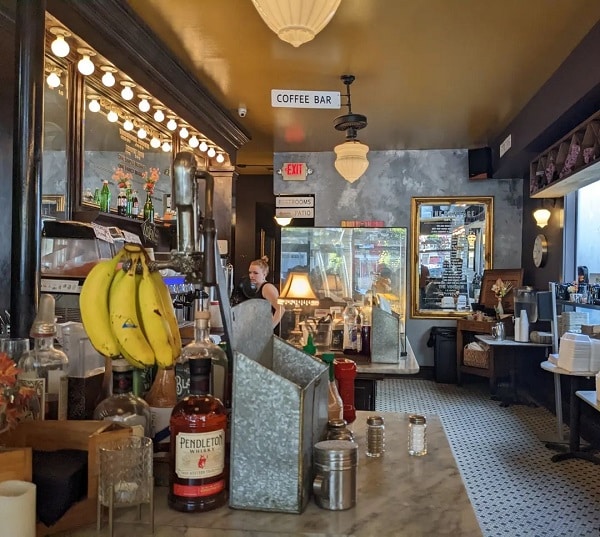 Address: 3121 Magazine St, New Orleans, LA 70115
Neighborhood: The Garden District
Price Point: $
The Vintage is a one-stop cafe offering a little bit of everything. Whether you are in the mood for hot beignets, a warm cup of coffee, or a mid-day flatbread, their menu and drink list is expansive. We recommend ordering their beignet bites with bubbles, which comes with freshly made bite-sized beignets and two glasses of champagne on the side. And with bistro seating under a covered patio on Magazine Street, it offers the ideal spot to wait out the rain while still being part of the bustle of the city.
Some of our other favorite cafe spots include La Boulangerie for French pastries, Mammoth Espresso for coffee and a great atmosphere, and of course the famous Cafe du Monde for classic New Orleans beignets.
Have a Unique Shopping Experience
What's better than a rainy day of shopping? New Orleans is known for its unique markets, wide selection of antiques, and locally-owned shops highlighting various artists and designers' work.
The French Market
Address: 1008 N Peters St, New Orleans, LA 70116
Neighborhood: The French Quarter
The French Market is the oldest market of its kind in America. Originally a Native American trading post, this open-air market has become a shopping hub for visitors 365 days a year. You could spend hours browsing each of the booths inside the market. The daily flea market offers handmade crafts, local art, home goods, and more. The French Market also hosts a weekly Farmer's Market and various local food spots, such as Aunt Sally's Pralines and Alberto's Wine and Cheese Bistro.
Antique Shopping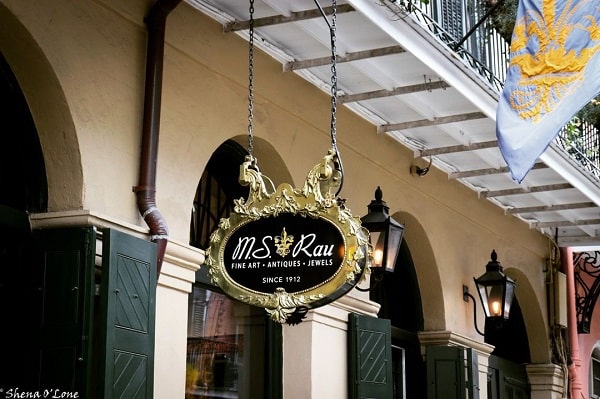 In a city known for its architecture and historic homes, there are antique gems to be found all throughout New Orleans. Whether strolling around the French Quarter or Magazine Street, there are antique shops on every corner waiting for you to discover their one-of-a-kind finds. Some of our favorites around the city include M.S. Rau Antiques, Lucullus Antiques, and Royal Antiques.
Art Galleries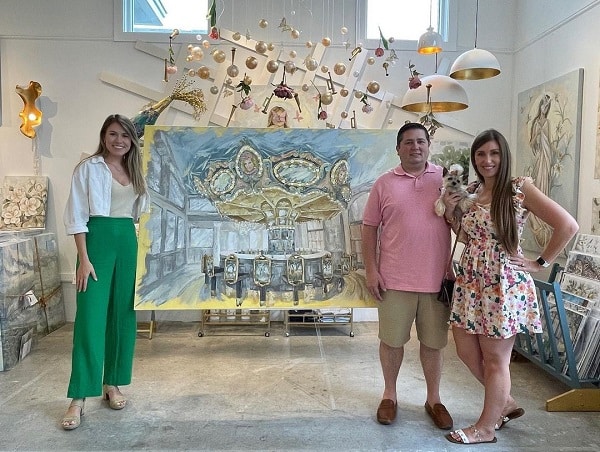 Local art is a huge part of the culture and history of New Orleans. Whether you are window shopping or looking for a piece to bring home with you, you'll find galleries with every art medium and price range. Magazine Street is a great place to wander from gallery to gallery. With contemporary art at Ashley Longshore Studio Gallery, more traditional Nola pieces at Terrance Osborne Gallery, and modern art at Casey Langteau Art, there's something different for every art lover out there.
Experience One-Of-A-Kind Entertainment
Mardi Gras World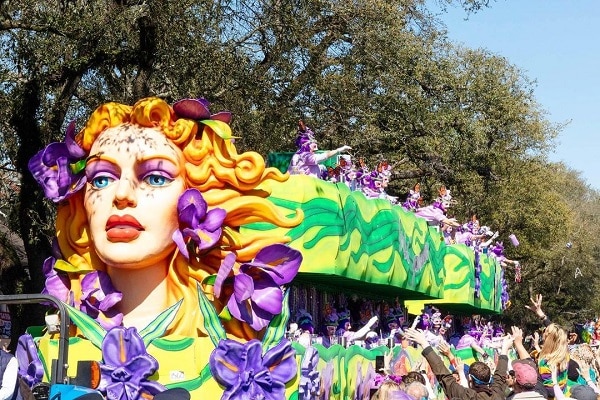 Address: 1380 Port of New Orleans Pl, New Orleans, LA 70130
Neighborhood: Lower Garden District
If you want to experience a taste of Mardi Gras no matter when you plan to visit, this Lower Garden District spot is for you. Mardi Gras World is a 300,000 square foot indoor warehouse and building facility full of Mardi Gras floats that guests can tour any day of the year.
Admission comes with a self-guided tour throughout the facility where visitors learn about the tradition of Mardi Gras while getting a front-row seat to the design and building process of their specially-made floats. And if you thought you missed king cake on your trip, think again! Mardi Gras World serves fresh king cake and coffee to its visitors year-round.
Audubon Aquarium of the Americas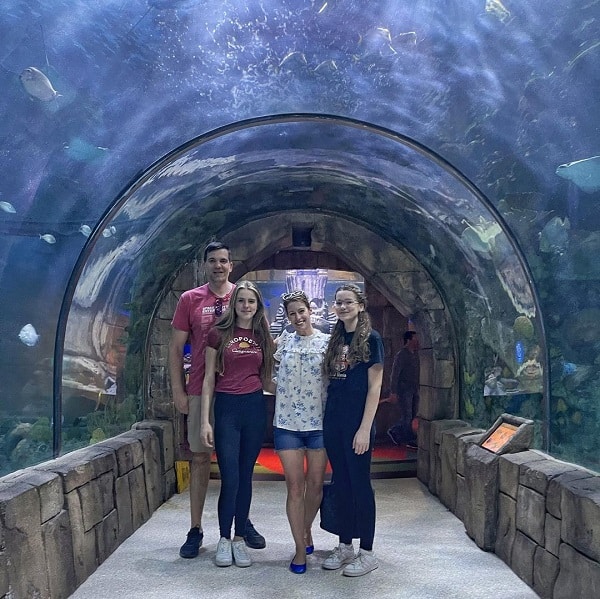 Address: 1 Canal Street, New Orleans, LA 70130
Neighborhood: The French Quarter
Rated one of the top five aquariums in the United States, The Audubon Aquarium of the Americas is another favorite indoor spot for the whole family to experience just a few blocks from Jackson Square along the riverwalk. It boasts of 15,000 sea life creatures that represent over 600 species and various bodies of water.
One of its key attractions is a 30-foot long Caribbean Reef tunnel that gives visitors the chance to be surrounded by sea life from all sides. Feeling brave enough to pet a baby shark? You can do that too. The aquarium includes species from the Amazon, Caribbean, Gulf of Mexico, and our very own Mississippi River.
New Orleans School of Cooking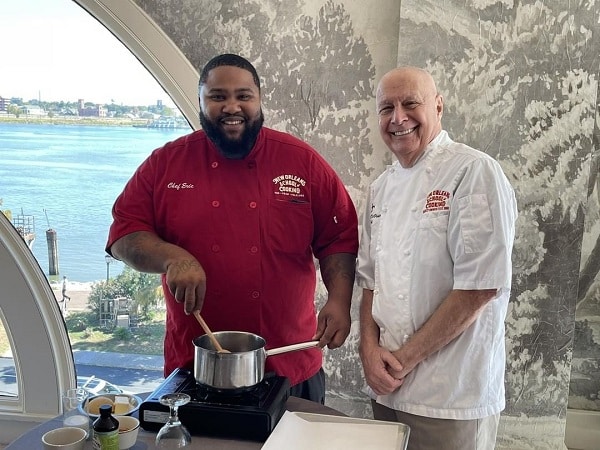 Address: 524 St Louis St, New Orleans, LA 70130
Neighborhood: The French Quarter
By now you've figured out that New Orleans is the place to go for unparalleled Cajun and Creole cuisine. But why let the fun stop when your trip is over? New Orleans School of Cooking offers hands-on cooking classes so that you can take your most memorable Louisiana meals home with you and enjoy them for years to come.
Between authentic gumbo, crawfish etouffee, jambalaya, and pralines, you get a front row seat to what makes these dishes so special and how to replicate them at home.
Finish Your Rainy Day with a Drink
No matter what your drink of choice is, Nola's specialty wine, beer, and cocktail scene will deliver. There's no better way to end a rainy day in Nola than listening to live music with a drink in hand at one of its many local bars.
NOLA Brewery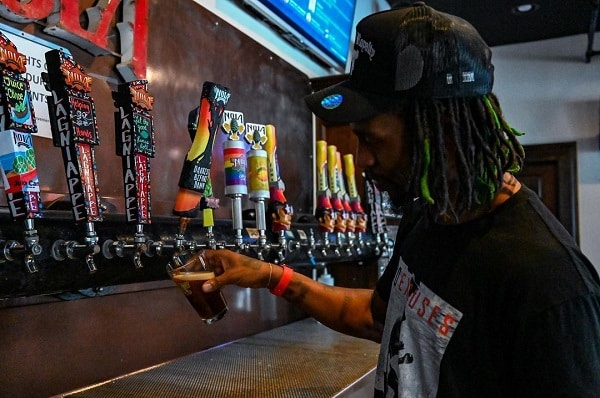 Address: 3001 Tchoupitoulas St, New Orleans, LA 70115
Neighborhood: Lower Garden District
Price Point: $
NOLA Brewery is one of Louisiana's largest independently-owned craft breweries. Located on Tchoupitoulas Street just south of Magazine Street, NOLA Brewery offers eight year-round craft beers and 3 seasonal options.
With live music, homemade pizza, and craft beer on tap, it's the perfect spot to linger after a long day of indoor sightseeing. And if you come during crawfish season, you're in luck! NOLA Brewery hosts crawfish boils with all the fixin's every Friday afternoon from February-May.
Copper Vine Wine Bar & Restaurant
Address: 1001 Poydras St, New Orleans, LA 70112
Neighborhood: The Warehouse District
Price Point: $$
Opened in 2018, Copper Vine is a welcomed presence in the Warehouse District offering a refined wine list, classic American dishes, and a warm, minimal atmosphere.
Copper Vine offers a weekday happy hour from 2pm-6 pm where guests can get an $8 flight of wines and specialty snack pairings under $7. And if you're looking to brush up on your wine education, Sommelier Emily Walker offers wine tastings to guide you through the history and specific characteristics of their French-inspired wine list.
Carousel Bar & Lounge
Address: 214 Royal St, New Orleans, LA 70130
Neighborhood: The French Quarter
Price Point: $$$
If you're looking for more of an upscale environment, the Carousel Bar & Lounge in Hotel Monteleone is a French Quarter staple on Royal Street. As the city's only revolving bar, it offers year-round live entertainment, craft cocktails, and tasty appetizers in its grand lounge.
We recommend arriving early in the evening to snatch one of the coveted 25 seats along the carousel bar.
No Raining on Your Parade in the Big Easy
Don't let rain keep you from experiencing the vast culture, diversity, and entertainment options availability to you in The Crescent City. With indoor activities spanning from unique shopping outlets to museums boasting of history, you can fill an entire rainy day with new places to explore and never get bored. Rain or shine, we know you'll enjoy your stay in New Orleans.