How to Plan an Unforgettable New Orleans Weekend Trip
New Orleans is a city that constantly evolves while staying rooted in rich history and tradition. While Nola is known for its massive Mardi Gras festivals, Bourbon Street bars, and late-night beignets, there is so much more to this city than meets the eye.
At first glance, New Orleans is an ideal destination for your party needs (and it is a good time, don't get us wrong). But peek behind the curtain and you'll also find a thriving local art scene, a booming third wave coffee culture, and some of the most elevated dining in the country. With historic architecture spanning the city and 200-year-old live oaks lining the streets, you can roam New Orleans for hours and never get enough.
If there was ever the perfect blend of classy and sassy, it would be the Crescent City.
New Orleans makes for the perfect weekend getaway. Whether first-time visitors are looking for an action-packed weekend or a slow, leisurely retreat, they will find what they are looking for in this diverse city.
As one of the most iconic cities in Louisiana, and even America, we are certain you will have an unforgettable weekend in the Big Easy. Once you check-in to your one-of-a-kind vacation rental home, the city will be at your fingertips.
In this 3-day itinerary, we're taking you to some of the best local spots and neighborhoods that scream southern charm. But don't worry, you won't miss out on those iconic New Orleans landmarks you've always been curious about. Yes, we promise, they really do live up to the hype.
New Orleans Itinerary Table of Contents:
Day 1: Explore the Garden District/Uptown Neighborhood
Day 2: Discover the French Quarter/Marigny
Day 3: Experience Mid City and Beyond
Travel Tips: Transportation, What to Pack, and Food Accommodations
Day 1: Explore the Garden District/Uptown
Wander Magazine Street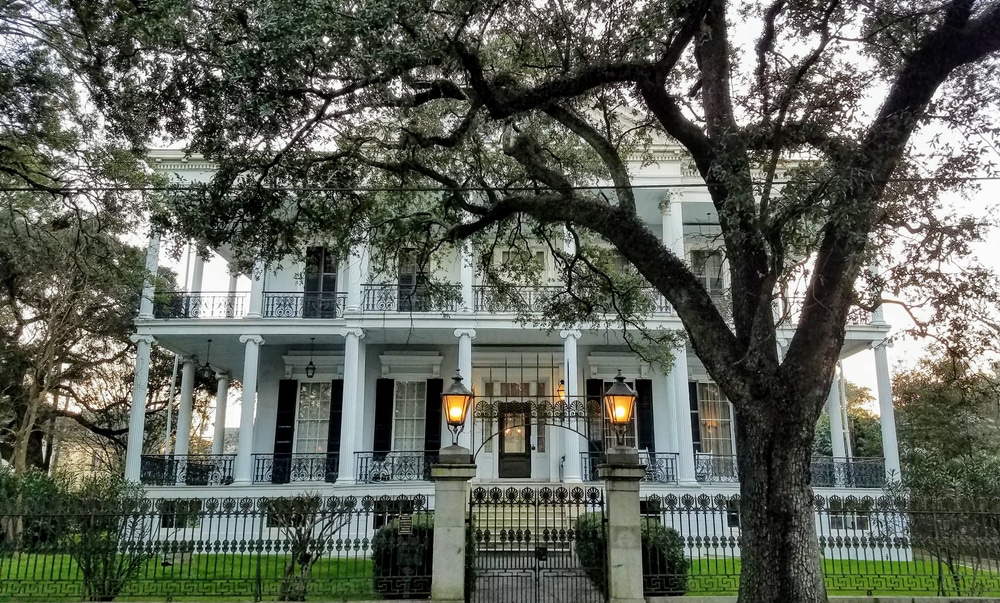 You've made it to New Orleans and you're ready to explore. We think one of the best places to start on a Friday is bustling Magazine Street. Stretching six miles to connect multiple neighborhoods throughout the city, Magazine Street is best known for its presence in the Garden District.
You can find free parking along various side streets in the Garden District and take a short walk to Magazine. Start with coffee at French Truck Coffee, a staple roastery and coffee shop with locations throughout New Orleans.
Magazine Street is home to various art galleries displaying local artists' work. Pop into Terrance Osborne Gallery first for soulful Nola artwork, then make your way to Cole Pratt Gallery for a contemporary, modern approach to Southern art. For an eclectic art experience you won't forget, head over to Ashley Longshore Studio Gallery next.
End your stroll at La Boulangerie, a local French bakery just across the street where you can dine al fresco over freshly-baked croissants and classic French sandwiches.
Relax in Audubon Park
Just down the road from the Garden District is the Uptown neighborhood, home to one of the two largest parks in New Orleans. Audubon Park hosts the New Orleans Zoo, Audubon Park Golf Course, and a 1.8-mile paved jogging and walking path.
But if you're all out of walking after Magazine Street, no worries. It's the perfect spot to relax under a giant Spanish moss-covered oak tree while listening to jazz music from one of the many local musicians set up in the park.
Considered an urban oasis in the middle of the city, it's the ideal way to build in moments of rest on your weekend getaway.
Dinner at Commander's Palace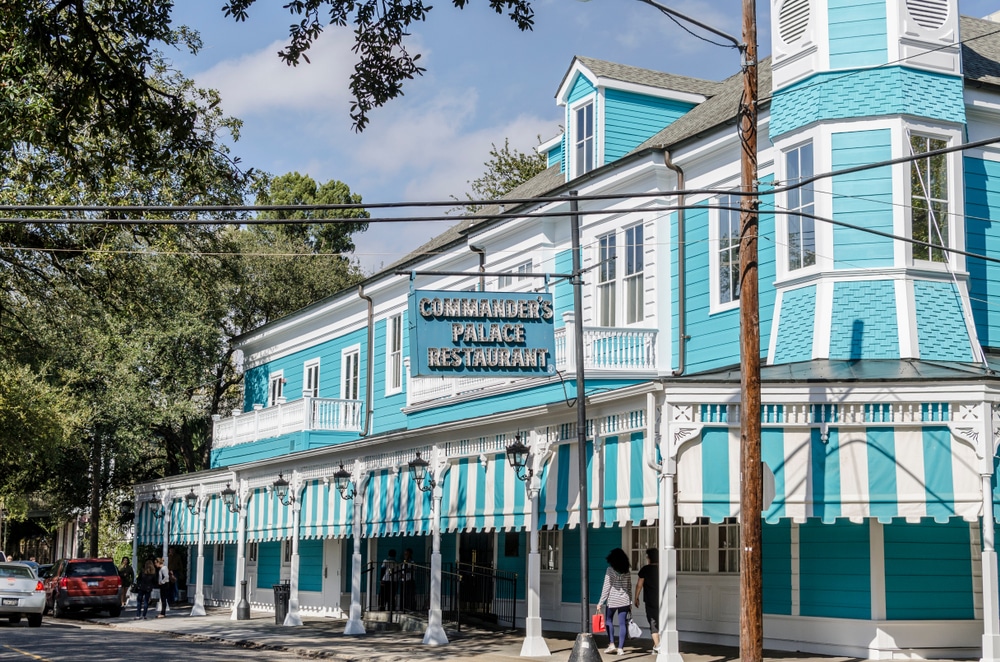 We're taking you back to the Garden District for a classic New Orleans dinner at one of the most well-loved restaurants in the city, Commander's Palace. You can't miss the elaborate, turquoise Victorian building as you walk towards its infamous welcome sign.
A landmark in the city since 1893, Commander's Palace is known for its Creole cuisine and extravagant decor giving each of its rooms a unique personality. Whether you opt for the turtle soup or the prosecco poached blue crab, your taste buds are in for a treat. And don't skip on dessert here. The Creole Bread Pudding Souffle is the perfect way to end the meal.
Pro Tip: We recommend making reservations well in advance for a weekend visit to Commander's Palace. Dress code is Business Attire. If you forgot to pack that button-up and jacket, head to nearby Superior Seafood and Oyster Bar for a more relaxed atmosphere with the same delicious Creole cuisine you came all of this way to try.
Hot Tin Rooftop Bar to Finish Day 1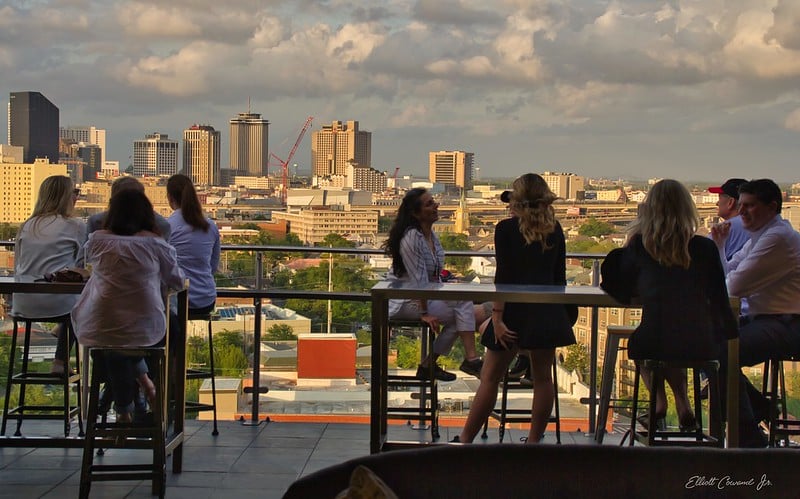 Only a few blocks from Commander's Palace is the historic Pontchartrain Hotel located on the beautiful St. Charles Avenue. The first floor of the hotel houses the Bayou Bar, where you can cozy up to a live band over craft beer or their extensive whiskey list.
But the crown of the hotel is its rooftop bar, Hot Tin, known as one of the best bars in New Orleans. With breathtaking views of New Orlean's Downtown and one-of-a-kind cocktails, Hot Tin is the ideal way to end your first night in New Orleans if you like a lively, energetic atmosphere. And it offers a peek into our next stop on the list: the infamous French Quarter.
Day 2: Discover the French Quarter/Marigny
Morning Beignets at Cafe du Monde
After a full night's rest, it's time to hit the ground running in the most popular areas of New Orleans: The French Quarter.
Just across from Jackson Square and the St. Louis Cathedral sits the famous Cafe du Monde, known for its unrivaled beignets and specialty coffee, the Cafe au Lait. You can choose between traditional beignets, which are three large, fluffy pieces baked to perfection, or their slender sister, the crisp beignet fingers.
Either way, they come covered in powdered sugar with more to spare at your table. They pair perfectly with a cup of coffee, whether black or Au Lait, which is coffee mixed with steamed milk.
Sit underneath the covered porch along the Mississippi River and watch New Orleans wake up from the hub of it all over breakfast.
Stroll through the French Quarter
New Orleans is all about lingering, and the French Quarter is the perfect place to do so while sightseeing. Every street boasts of unparalleled architecture, vibrant colors, jazz music, and plenty of shops to explore. Nola Tour Guy offers free walking tours throughout the French Quarter if you'd like to learn more about the history and culture through a guided tour by locals.
Head down Decatur Street first, which runs parallel to the Mississippi River and is home to Jackson Square, a National Historic Landmark centered in the middle of the French Quarter. With local artists displaying their talent around the square and the St. Louis Cathedral standing tall as the backdrop, there isn't a more iconic New Orleans scene than this.
Jackson Square makes for the perfect setting to capture your weekend. Wonder down to the French Market next, where you'll find a large, open-air market featuring fresh produce, restaurants, local art, handmade goods, and more.
Making your way to Royal Street, it's time to enjoy a late brunch at Court of Two Sisters, where you'll indulge in classic Cajun dishes like gumbo and jambalaya over live jazz music and outdoor seating.
There's plenty of antique shops and local businesses to explore before heading to the last French Quarter stop for the day: Bourbon Street.
Experience Bourbon Street
Bourbon Street, like Mardi Gras itself, is one of those experiences you can't really put into words. Some people love it, some hate it, but they're always glad to say they've done it.
Bourbon Street is known for its bright neon signs, bars on every corner, impeccable people watching, and the infamous Hand Grenade. Open container laws allow visitors to stroll down Bourbon Street with drink in hand. We recommend stopping by Pat O'Brien's for their famous Hurricane drink and Cajun snacks. And if you love what you see, come back to Bourbon Street later on for the incredible nightlife.
Ride The Infamous New Orleans Streetcar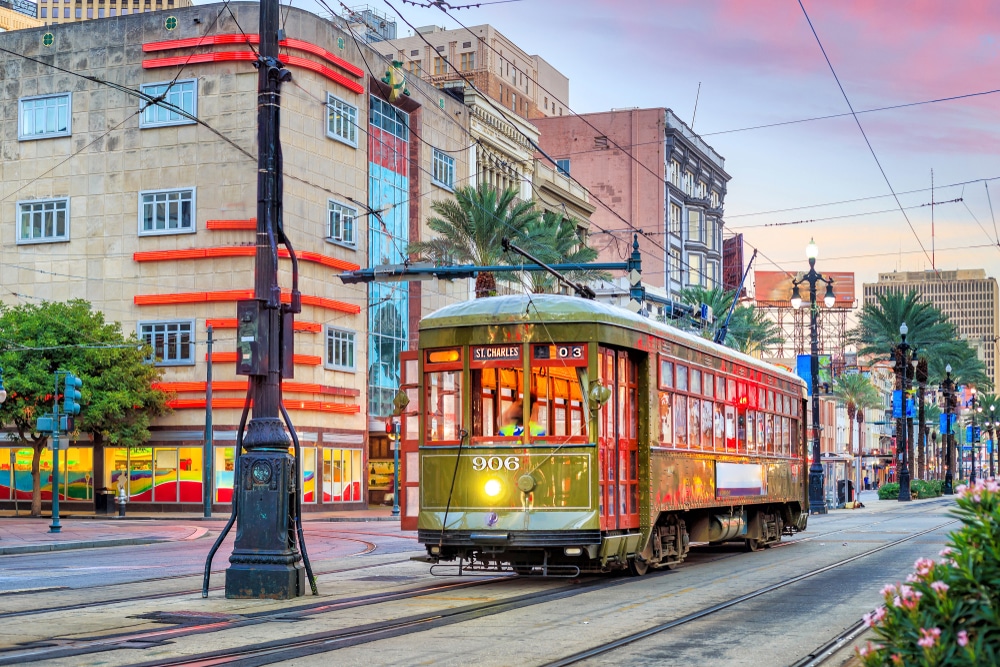 It's time to give your feet a break and experience New Orleans by one of the oldest methods of transportation in the city: the streetcar. For only $3/day, you can ride the The New Orleans Streetcar along four different routes that spread from St. Charles Avenue to the Riverwalk.
Whether you want to spend your afternoon at the St. Louis Cemetery, the Audubon Aquarium for some sea creature-watching, or the World War II Museum, you can get there from the Streetcar with a great view of the city on the way. To find the route for you, check out the Streetcar itinerary.
Pro Tip: If a streetcar isn't really your thing, we recommend another classic Nola transportation method: the steamboat. Docked on the riverfront near Cafe du Monde where the day began, the Steamboat Natchez is a tourist favorite. Although she's taking a little break right now, her sister steamboat, the Riverboat City of New Orleans, is open for business. You can find all of the information for steamboat cruisin' here.
Head to St. Roch Market for Dinner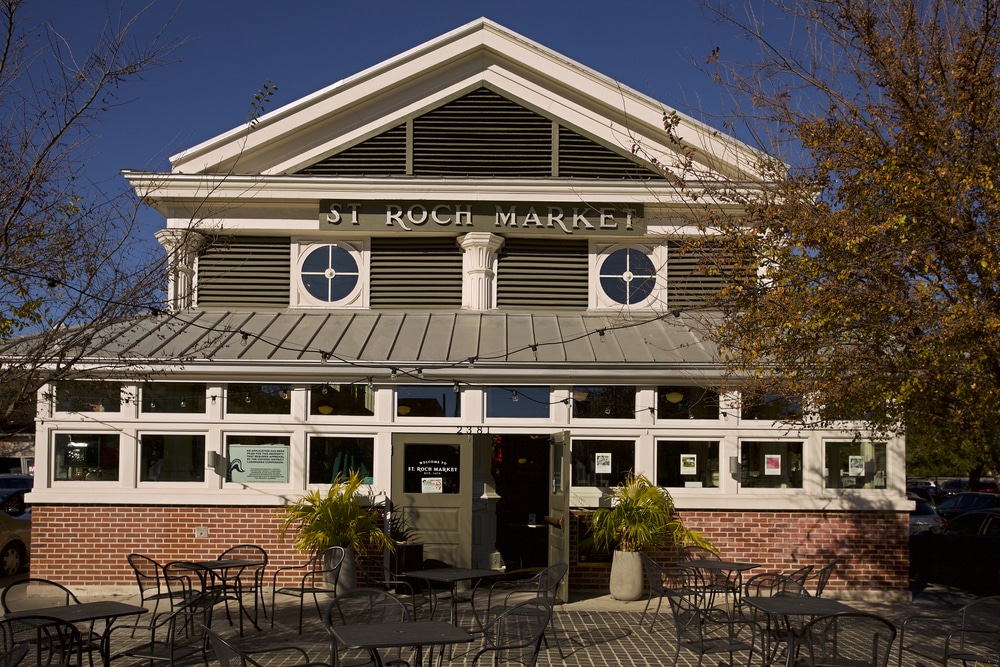 St. Roch Market has become a staple destination for foodies in New Orleans since it opened its doors in 2014 and you will see why as soon as you walk in. This food market is packed with talent whether you are in the mood for dinner, drinks, or dessert.
St. Roch Market was originally an open-air market built in 1875, later converted into a seafood market until it was nearly destroyed by Hurricane Katrina. Today, it is home to independently-operated vendors delivering unique, diverse cuisine in the beloved Bywater/Marigny neighborhood.
We recommend starting with the Mayhaw Bar and their large selection of signature cocktails, including the infamous Sazerac. With multiple dinner options, you can opt for fresh oysters at Elysian Seafood, sushi at Lin Sushi and Poke, soul food at Hype Eatz, to name a few. If you're up for it, head on over to The French Stall for evening sweet crepes to finish your meal.
Nightlife on Frenchmen Street
If you aren't feeling round two on Bourbon, look no further than Frenchmen Street as the perfect way to end your second day. Frenchmen Street is known for its renowned music scene. From reggae to jazz music, it is the go-to spot for live music performances featuring 20+ bars, venues, and event spaces.
We recommend visiting clubs Snug Harbor and d.b.a. for intimate atmospheres with live shows every night. With musicians also playing outside on the lively street, you can stroll from one block to the next and hear a variety of musical genres.
When you're ready for a little late-night snack, be sure to check out Dat Dog on Frenchmen Street, a New Orleans staple featuring hot dogs and award-winning french fries.
Day 3: Mid City and Beyond
Morning Walk in City Park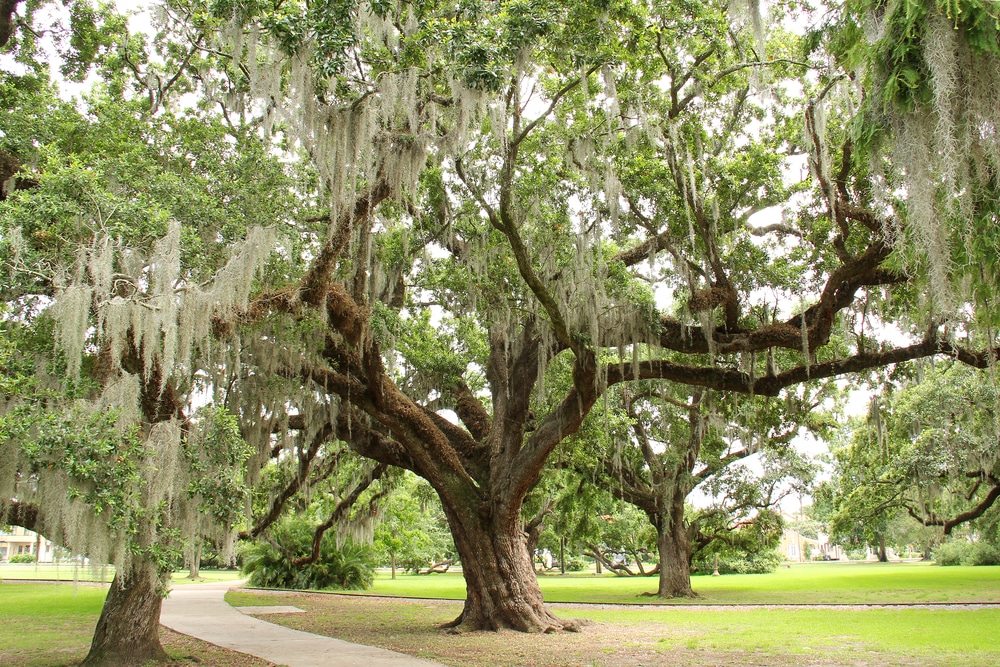 You've made it to the last day of your long weekend, but there is still more to explore in this great city of New Orleans. There are few places as beautiful as City Park to start your Sunday morning.
City Park is located in Mid City, a historic neighborhood in the heart of Nola and home to many of our vacation rental homes. This 1300-acre outdoor space is full of Spanish moss-covered oak trees, biking and walking baths, an 18-hole golf course, and a 50-acre open space for sports, festivals, and more. But that's not all.
City Park hosts the New Orleans Botanical Gardens, home to over 2,000 plant species from around the world across 10 acres of the park. And if you're looking to enjoy more art, City Park also houses the New Orleans Museum of Art, or NOMA, opening at 10 am on Sundays. Finally, there are multiple lakes across City Park where you can fish or even take a boat out.
Brunch at Toast
What is the most important meal on a Sunday, you ask? It's brunch, especially if you're in New Orleans. New Orleans is known for its incredible brunch options, ranging from Creole dishes to your classic American breakfast plate. While there are many touristy options for brunch, we're taking you to a local spot in the Fairgrounds neighborhood, right by Mid City.
Toast is owned by local chefs, Cara and Evan Benson. From crepes to waffles to breakfast toasts, it is a foodie's paradise. All of their bread, biscuits, and jams are made fresh daily in-house. With a small, intimate atmosphere, it's the ideal spot to cozy up with a cup of coffee or glass of mimosa.
Don't forget to try a side of their aebleskiver's, which are sisters to the beignet and equally as fluffy, sweet, and delicious.
Enjoy A Mysterious Afternoon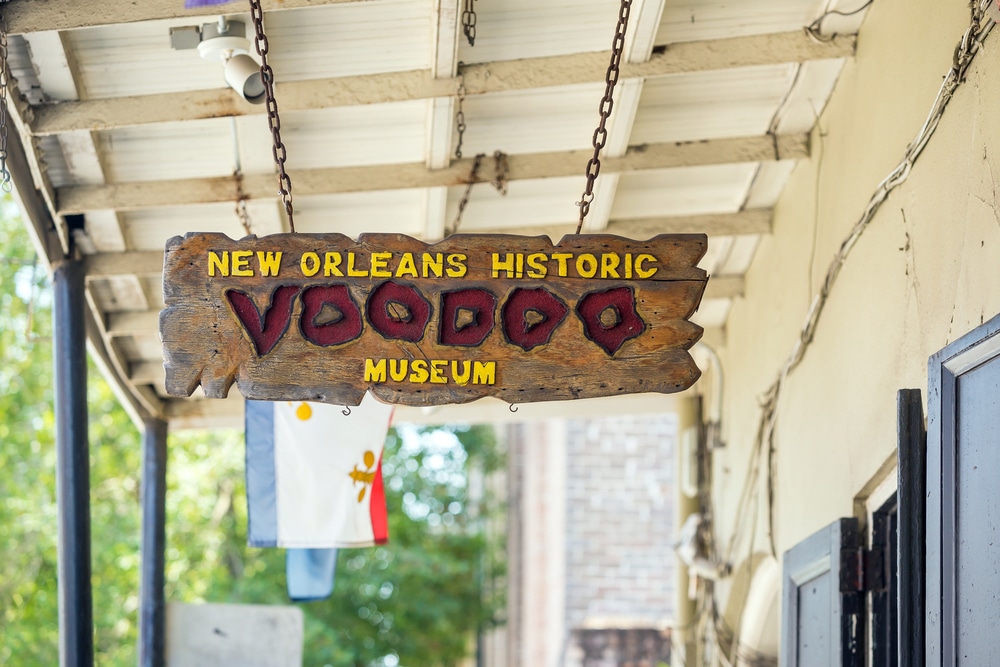 We are here to confirm that the Big Easy has a few mysteries up its sleeve. From ghost tours to haunted museums, New Orleans doesn't wait until Halloween to turn up the spooky meter. But all of this mystery comes with years of important history, including the Louisiana Voodoo culture.
Voodoo has been embedded in Louisiana for three decades and is an active practice in New Orleans to this day. To learn more about voodoo, you can book a guided walking tour where you will learn about the common rituals and the history of this ancient practice in New Orleans from local tour guides.
If ghost tours are more your scene, New Orleans has a myriad of haunted tour options in all parts of the city. Whether you're looking to head back to the French Quarter, Central Business District or Uptown, you can find a spooky option here.
Pro Tip: if you want a more private experience, we recommend checking out Lafayette Cemetery, nestled in between Mid City and the French Quarter in the Iberville neighborhood. It is one of the oldest cemeteries in New Orleans and still active to this day.
Po-Boys at Parkway Bar and Tavern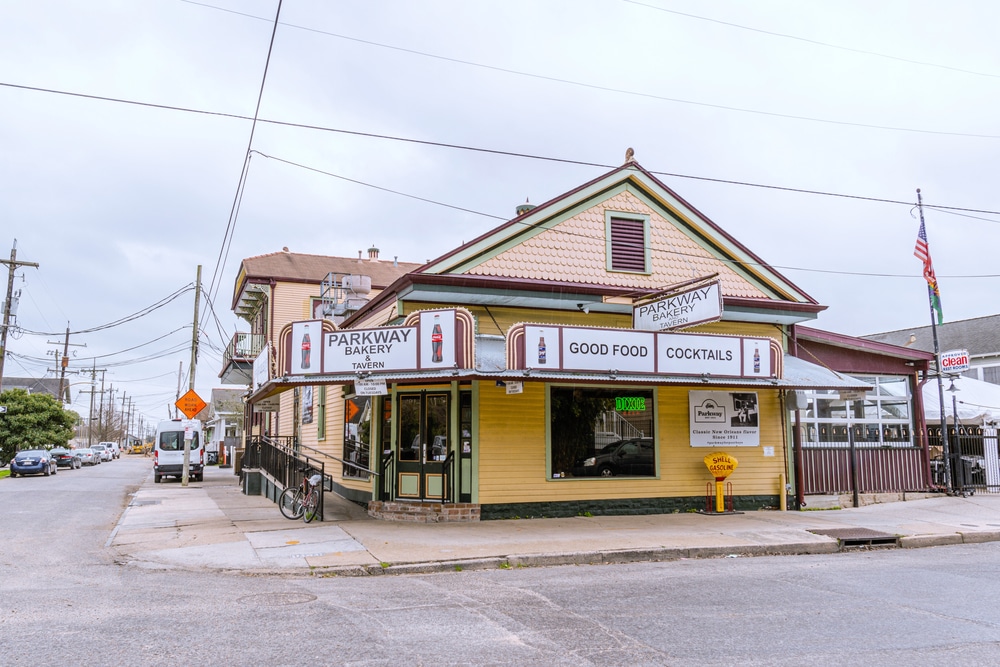 There's only one New Orleans meal left that you can't leave town without trying, and that's the po-boy. Dubbed the poor boy's sandwich, po-boys became popular in the early 1900's as a way to provide quick and easy food to railroad workers on strike.
As early as then, Parkway Bar and Tavern became known as a reliable po-boy destination spot and it has been serving its Mid City community ever since.
One glance inside and you'll see that there is nothing fancy about this dining establishment. With old menus lining the walls and simple plastic seating, it is the quintessential hole-in-the-wall corner joint. But don't let the decor fool you: their po-boys are consistently rated some of the very best in New Orleans year after year.
Of course, they boast the classic gulf shrimp po-boys if you are a seafood fan. But their menu also includes unique pairings like the alligator sausage or roast beef with gravy po-boy. Whatever type of po-boy you're into, you are sure to find it here.
Finish the Day on a Sweet Note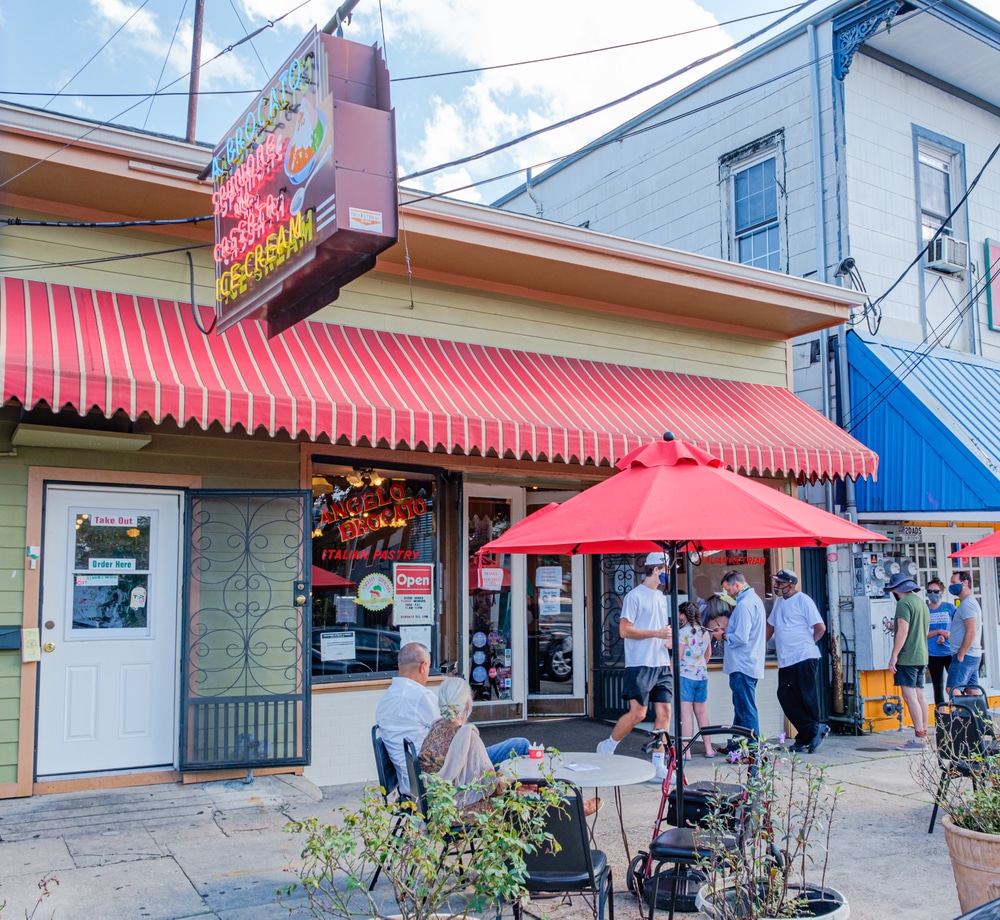 We would be remiss not to finish Day 3 on a sweet note and there is no better place than Mid City's very own Angelo Brocato. A local favorite, this Italian bakery and ice cream shop was opened in 1905 by Angelo Brocato Sr., an immigrant from Sicily.
Whether you are in the mood for Italian gelato, pastries, ice cream, or cannolis, this spot has it all. Its cozy, pastel-colored interior and bistro seating greet every visitor with a warm welcome and chance to unwind after a full day of sightseeing.
You might even want to pack a few cannolis in your bag for home.
Travel Tips for Your Weekend
Transportation in New Orleans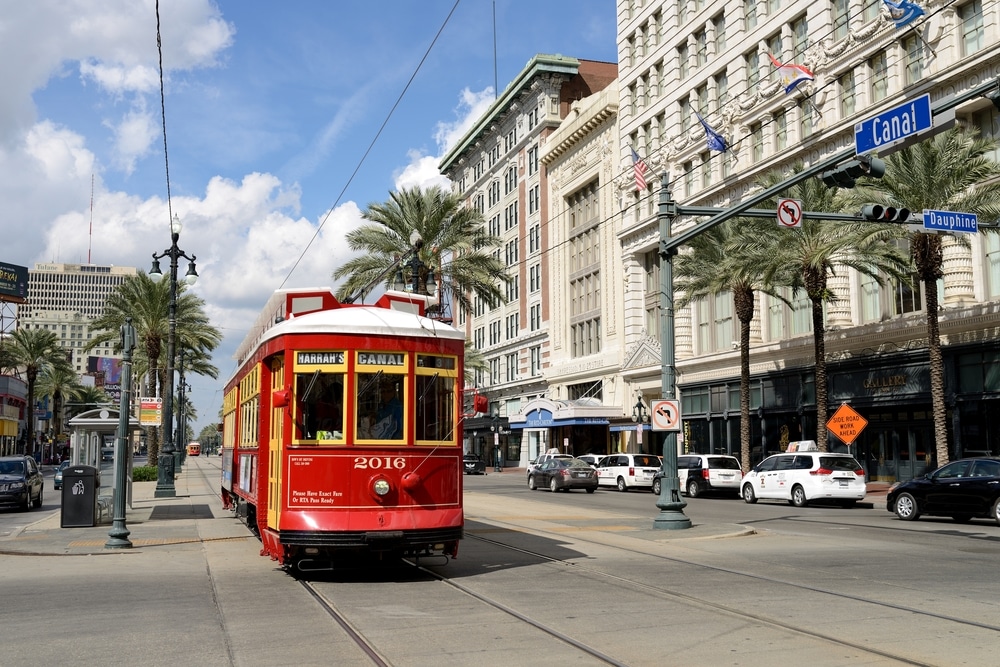 Public transportation in New Orleans is limited, although you are welcome to use the streetcar or bus system for travel if desired. We typically recommend renting a car to explore all of the different neighborhoods in New Orleans. Ubers are also readily available throughout the city.
Packing List
New Orleans is at its peak humidity from July-September, so if you are visiting then we recommend packing light, breathable clothes to enjoy the city.
November-April holds milder weather, with February being the coldest. However, New Orleans is known for having uncharacteristically warm days even then, so it's always best to bring multiple layers when you visit.
We also recommend bringing comfortable walking shoes, an umbrella or rain jacket, and bug spray with you.
Restaurant Accommodations
We recommend making reservations ahead of time for any restaurants on your must-try list. New Orleans often has long restaurant wait times, especially during busy travel seasons. Brunch is particularly popular on the weekends. Most restaurants have bar seating that you can enjoy while waiting for your table.
Enjoy Your Unforgettable New Orleans Weekend Getaway
No matter when you visit New Orleans or what activities you enjoy doing, there is something for everyone in this magical city. Between the delicious food scene, the local artists and musicians' talent, and the historic landmarks, New Orleans is bursting with character, personality, and charm.
After many setbacks throughout the years, Nola is a resilient city full of devoted community members ensuring that it thrives, and that is evident in all that the city has to offer. We hope that this 3-day weekend travel guide helps you experience the best of the best when it comes to the Big Easy.
So, what are you waiting for? Gather your krewe and have yourself a grand ole' weekend down in New Orleans.